Bring your Human to work – Erica Keswin: A company success depends a lot on its employees and when employees bring their Human to work, the business and the people both thrive. A must-read for any (aspiring)leader.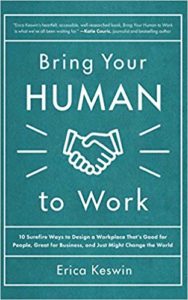 Recommender Systems – the textbook – Charu C. Aggarwal: Detailed overview of Recommender Systems.
Creativity, INC. by Ed Catmull, a book talking about how to build a company that continues to disrupt and innovates on the long run and the secrets to ensure that.
The Big Leap – Gay Hendricks: How to achieve more happiness in life and conquer your fears.
Books I read last months
Lean in – Sheryl Sandberg: Women, Work and The Will to Lead! I believe that every woman should read this book!
Zero to one – Peter Thiel: How to build an innovative startup.